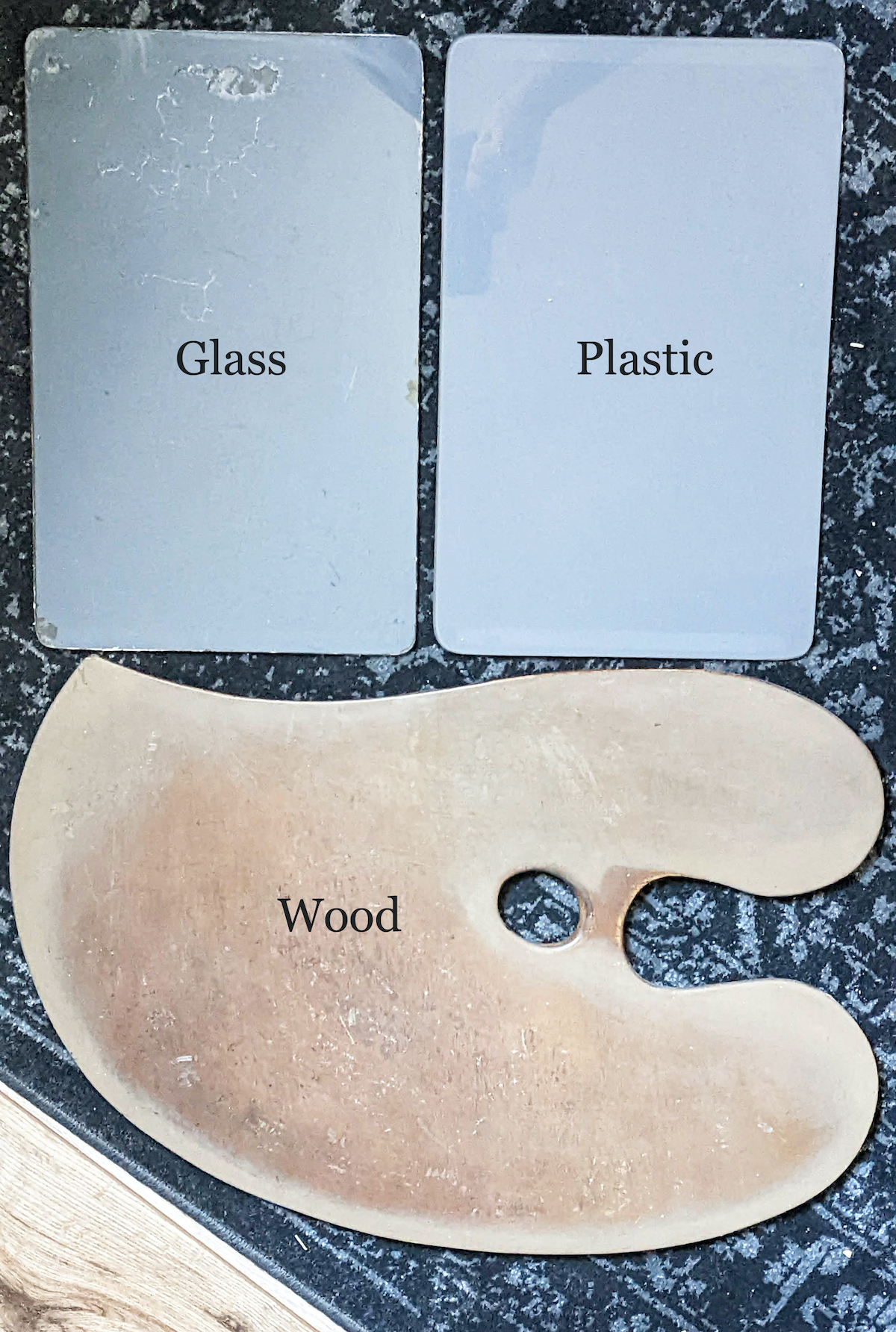 A palette is one of those essential tools if you're an oil painter, and once you find a palette you enjoy using, you will get years of service if it's well taken care of. In this article, I'll talk about a few of my favorites and share some of advice on which palettes might be best for different situations.
The classic wood palette is the quintessential icon of an artist. There's not much that makes you feel more like a painter than holding a wood palette and a mass of brushes in your hand. The one pictured above is a palette I made myself so that I could customize the shape and tone of it. As you can see it has taken on a beautiful patina over the years that serves as a great neutral against my paint as I'm mixing. It's an excellent tool for larger projects that I need to mix a lot of paint for. However, as much as I love using my wood palette, its heaviness causes my hand and arm to be fatigued after a long day in the studio. Plus, it's not very easy to clean if paint is left to dry on it.
Instead, I often choose to set my palette in my pochade box and let my tripod do the heavy lifting. My glass palette is the one I use every day in the studio. I prefer the glass over plastic because it's easier to clean, but whenever I go out plein air painting, I'll pack the plastic palette since it's lighter. If I'm hiking through the woods with my backpack full of paint, brushes, pochade box, panels, and tripod, any weight I can avoid taking with me is helpful.
Another option many artists choose is palette paper. These are disposable oil paper pads that you use once and throw away. Personally, I don't prefer to use them because they tend to waste more paint than I'm comfortable with, but they may be a great option for quick sketches or attending a workshop.
Ultimately, you'll probably try out a variety of shapes, sizes, and materials before you find the perfect palette that fits all your wants and needs. I have a collection of palettes that I've used over the years, and each one is a reminder of the good (and not so good) paintings I've made with them.